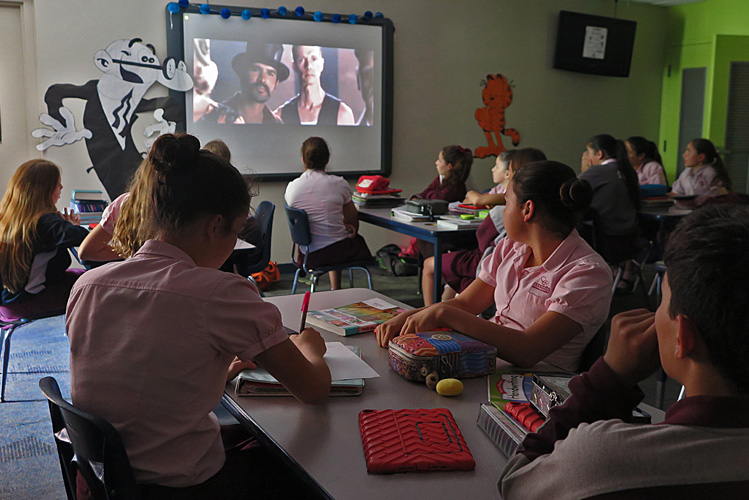 Short Films In Spanish
Add Value Education
Upper School Spanish classes have been using short films as a resource this past quarter, a tool Mr. Pau Morant, Upper School Spanish teacher, has been using to motivate and engage students in single class periods, while breaking the monotony and adding variety to their day.

These short films prove useful in promoting dialogue among students and providing a means for them to express their emotions, experiences, and opinions using the Spanish language. This class format has aided in honing their ability to work as a group, while developing life skills, such as effective communication, tolerance, and valuing diverse opinions. In addition, they have grown in their appreciation for the arts, in particular the connection between literature and film.
Cortometrajes Para Educar
En Valores
Unos de los recursos que se utilizan en las las clases de español para la etapa de UPPER SCHOOL son los cortometrajes, o películas de corta duración, que se muestran perfectamente adaptadas para su uso en el ámbito educativo en una sola sesión lectiva. Los cortos se presentan como una herramienta de motivación, aportando variedad al desarrollo habitual de las clases, rompiendo monotonías, facilitando su comprensión y aportando valores al alumnado.
Los alumnos realizan distintos tipos de actividades trabajando la competencia lingüística, así promoviendo el diálogo entre el alumnado para que pueda expresar sus sentimientos, emociones, vivencias y opiniones. A través de esta actividad, el alumnado trabaja la competencia social y ciudadana, reconociendo y apropiandose de actitudes y valores propias del grupo (solidaridad, igualdad, tolerancia, amistad…). Adicionalmente, la actividad fomenta el gusto por el arte con las relaciones existentes entre cine y literatura.